Meet Your Colleague: Rachel Pesso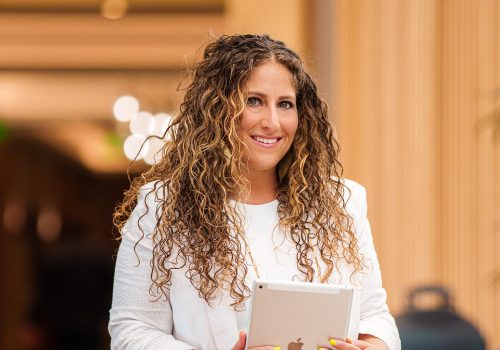 Meet Rachel in her own words:
I'm a visual storyteller, expert designer, and big believer in the power of authenticity. I created RP Creative because I want entrepreneurs and small businesses to keep sight of their mission and purpose, as they increase their impact and audience. RP Creative helps entrepreneurs create a visual brand that connects deeply with the people they serve. With over a decade of experience working with brands like Time Inc. and Fortune Small Business Magazine and leaders like Laverne Cox and Jonathan Fields, I've seen firsthand what a strong visual brand can do.
What we love about Rachel and her work:
Rachel is someone that honors uniqueness for herself and others. This comes through in the way she works with clients, making sure that things don't just look good, but that it feels aligned and feels good. I have witnessed first hand Rachel's ability to untangle a random smattering of words and translate it onto the screen representing exactly what you meant.
Her unicorn combination of design know-how, marketing knowledge, and ability to scout out and connect with a client's purpose is like no other.
Rachel's Entrepreneur Tip:
Be Intentional + Your Promises Matter: People are tired of brands' empty promises. Brands should always be solving a problem and creating an intentional experience. When my clients come to me to build a brand we focus on how they want people to feel when they interact with their brands. This concept gets infused into everything that's created for the brand. The visual identity, photos, copy, website and social experiences all are connected and tell the same authentic story.
What Rachel thinks about us:
"Working with Tanya was EPIC"
Sometimes as entrepreneurs our minds are spinning with ideas. When I came to Tanya, that was me. I was lost in my direction. She gave me so much clarity and confidence to chase the path that is right for me and my business. This was something I was searching for and I am so grateful to have found my way with Tanya's guidance. If you are looking for clarity and strategy you have to hire Tanya!"
CONNECT WITH RACHEL 
Website: www.rachelpesso.com
Listen to my podcast: Behind Design (coming soon)
WORK WITH RACHEL
The Brand Experience – Custom Projects
Next Level Brand VIP Day (coming soon)
P.S. Whenever you are ready…here are 4 ways I can help you grow your business and strategize the life you dream of:
1. Ready to build s Strategy Plan in 20 minutes?
Let's meet: Book a NO-Catch, NO-Pitch Strategy Plan Session HERE

2. Want to Stop Feeling Busy, Create Predictable Days & Regain your Sanity? Check out My Success Schedule HERE. Your investment is $197 and includes 1 Private Coaching session with me.

3. Ready to Stop the Lone-Wolf journey and be supported with a coach and peers with a personalized strategy plan and skills development? Success By Design is 12-Month Customized Support Mastermind Membership to build your strategy & skills to optimize profit and joy. It's a 6K investment and will deliver more than any program you've seen out there. 
(CLICK HERE to visit a private member session as our guest)

4. You're powerful, have a bias for action, and a track record of success, but crave something more? If you know you're ready to do the deep work to become the next-level YOU- Let's have a human-to-human conversation about what that might look like. Book HERE